Vacavia Cottages & Cabins specializes in providing temporary and recreational housing solutions for campgrounds, RV parks and resorts, hunting and fishing camps, overnight camps, and other unique outdoor venues built to ANSI 119.5 Park Model RV standards.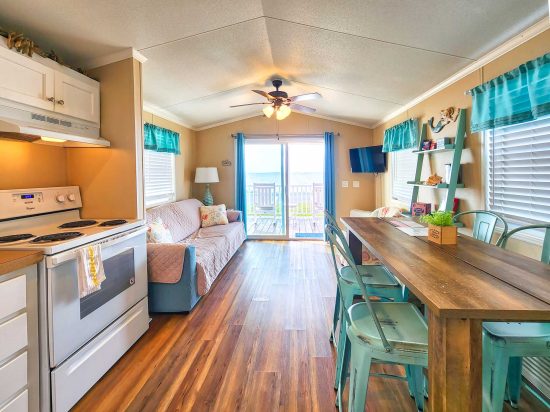 As our name suggests, Vacavia Cottages & Cabins manufactures a wide array of park model cottages and cabins. All of our layouts are available in either a seaside cottage or rustic cabin motif. The differences between the cottages and cabins are purely aesthetic. All layouts are available in either style.
A Park Model Home Floor Plan for Every Customer
Vacavia Cottages & Cabins offers twelve floor plans that, with minor modifications, easily meet the needs of most customers. In those rare instances where one of our standard floor plans doesn't suit a customer's needs, we gladly spend time discovering the customer's needs so we can develop a custom floor plan that better suits the customer's specific requirements.
All of our floor plans are available in a rustic style or a cottage motif. The exterior of our homes are clad in fiber cement board, which provide exceptional durability against wind, rain, sun, and insects. Choose any color you want, if you are going with a cottage look. Our cabins are stained with a semi-transparent redwood color stain that provides all of the benefits of a natural wood exterior without the maintenance required to keep wood looking good.
Building Tiny Homes for America
Tiny Homes are all the rage. The problem is that many so-called tiny homes are just shed with a bit of insulation and maybe a few windows and outlets and some wall paneling. In many jurisdictions sheds converted into tiny homes are prohibited by law or policy. Vacavia tiny homes, on the other hand, are fully qualified recreational vehicles built to the ANSI 119.5 Park Model RV standards, meaning that, generally, they can be used wherever recreational vehicles are permitted to be used. In any event, you should always be aware of your local zoning laws before buying or using any tiny home product.
Vacavia Cottages & Cabins have a park model home layout and style for just about any need. With about a dozen base floor plans, our available options and packages give our customers plenty of options from which to choose. These options include porches, lofts, open beam ceilings, upgraded solid surface countertops, and even our new "Signature Package" which provides upgrades, such as enhanced glass, tile backsplash & shower surround, and a luxury bedroom package.